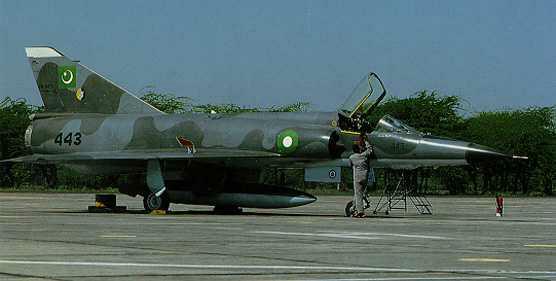 Introduction:
With a combined total of 180 Mirage IIIs and Mirage 5s in service in 1998, the Pakistan Air Force is the world's second largest Mirage operator - second only to the French Armee d' l' Air (French Air Force). The Mirage entered service with the PAF in 1968. Mirage IIIs are high-speed, all weather, delta wing, long-range fighter-bombers while Mirage Vs are ground
attack aircraft derived from the Mirage IIIs, which itself can also be employed in the interceptor role. The first order comprised of 18 Mirage III EPs, 13 Mirage III RPs, 3 Mirage III DPs plus 28 Mirage 5 PAs, 4 Mirage 5 DPAs, 30 Mirage 5 PA2/3s. In 1990, PAF obtained 43 used Mirage III Os and 7 Mirage III ODs from Australia and then purchased 40 reconditioned Mirage III Es from France in 1996 pushing the total to 180 aircraft. The Mirage currently equips No. 5, No. 7, No. 8, No. 22 (OCU) and a CCS squadron.
Background:
Developed and built within the framework of a programme for a light interceptor, defined by the French Air Force following the Korean war (1950-53), the Mirage III was a single-engine fighter-bomber. It combined delta-wing design with a fuselage optimized to reduce air shear (giving the plane its distinctive wasp-waisted look). One of the most elegant aircraft ever
flown, the Mirage III has a large delta wing and circular intakes with shock cones. A rectangular recess under the aft fuselage can contain either a fuel tank or a rocket engine. The Mirage III 001 made its maiden flight, piloted by Roland Glavany, 17th November 1956, at Melun-Villaroche (the Seine-et-Marne region of France). The aircraft would later be enhanced
with variable-flow air intakes (thanks to conical spoilers moving along the intake axis to choke airflow) and servocontrolled flight surfaces, all invented by Dassault engineers.
Mirage III: One of the most important commercial successes of the French aircraft industry in the 1960s and 1970s, the delta-winged Mirage III was conceived as a lightweight interceptor but found its greatest success as a multi-role fighter. After a number of experimental prototypes that flew from 1956 with the Atar 101G turbojet, the Mirage IIIA pre-production type
flew in May 1958 with the considerably more powerful Atar 9B turbojet. This paved the way for the two initial service models, namely the Mirage IIIB tandem-seat trainer without radar and the Mirage IIIC single-seat interceptor with the Cyrano Ibis radar and provision for the two cannons to be replaced by a rocket pack for improved climb and celing. Subvariants of both
models were exported to countries such as Israel, Lebanon, Switzerland and South Africa.
The definitive model was the Mirage IIIE optimized for the longer-range intruder and fighter-bomber roles with a longer fuselage, Cyrano II radar, Doppler and TACAN navigation systems, and provision for a wider assortment of disposable stores. This model was bought by the French Air Force, and modified subvariants were exported to several other countries
including Pakistan. The type was also built under license in Australia and Switzerland as the Mirage IIIO and Mirage IIIS respectively, the latter with Hughes radar and weapons system for use of the Hughes Falcon air-to-air missile. 50 reconditioned Mirage IIIOs have recently been sold to the PAF by the RAAF.
Mirage 5: In 1966, Israel asked Dassault to create a simplified version its Mirage IIIE strike/attack fighter optimized for the daylight ground-attack role. The type was evolved without radar, whose erstwhile volume was used for the avionics that were relocated from their position to the rear of the cockpit, which was now used for an additional 470 litres of internal fuel storage, and two outward-splayed hardpoints were added under the fuselage for the carriage of a heavier and more diverse warload. The first Mirage 5A flew on 19 May 1967, but the French government embargoed the delivery of the type to Israel and took the type for its own air force with the designation Mirage 5F.
This was only the start of a successful programme that saw the delivery of 525 aircraft to 11 air forces, many of which still operate the type. The Mirage 5A is the single-seat fighter and ground-attack warplane, and varians include the Mirage 5D tandem two-seat trainer, the Mirage reconnaissance type has a longer nose with a fan of five cameras, and the Mirage 50
final model with the uprated 70.60 kN (15,873 lb st) Atar 9K-50 turbojet and the electronic improvements retrofitted in most Mirage 5s.
Only Chile and Venezuela bought the Mirage 50, and the former has upgraded its aircraft, with the assistance of Israel Aircraft Industries (IAI), to Pantera standard with fixed canard foreplanes on the inlet trunks and further updated electronics.
The Mirage III and 5 remained operational in the French Air Force between 1961 and 1994.
Its combat effectiveness in the hands of Israeli Air Force pilots during the Six Day war in 1967 ensured the export success of this aircraft. Since 1958, there have been 1,401 Mirage III's and derivative Mirage 5's and 50's built, taking account of the more than 80 different versions developed for 21 countries around the world including Pakistan. They have logged over 3
million flying hours.
Mission:
The Mirage III was designed initially as a high altitude, high speed all-weather interceptor, capable of performing ground support missions. It is now deplyed by the PAF as a multi-role, multi-mission fighter.
The Mirage 5 was designed as a ground-attack and reconnaisance aircraft. It is deployed by the PAF in both these roles as well as in the exclusive anti-ship role armed with Exocet anti-ship missiles.
Features:
One of the most elegant aircraft ever flown, the Mirage III has a large delta wing and circular intakes with shock cones. A rectangular recess under the aft fuselage can contain either a fuel tank or a rocket engine. It has improved Doppler navigation system in fairing under front fuselage, gyro gunsight and nose packing containing Omera 40 and 33 cameras.
The Mirage 5 was a fair-weather attack development of the Mirage III. It can also be flown as an interceptor. The reduction of electronic equipment allows more fuel and reduces cost.
Basic Specifications:
Primary Function:Mirage III: Multi-role fighter; Mirage V: Ground-attack, anti-ship and reconnaissance aircraft
Manufacturer: Dassault-Breguet (France)
Power Plant: One SNECMA Atar 9C turbojet afterburning engine.
Thrust: 60.8 kN (13,670 lb st).
Length: Mirage III: 49 feet, 3.5 inches (15.03 metres); Mirage V: 51 feet, 0.5 in (15.55 metre)
Height: 14 feet, 9 inches (4.5 metres)
Maximum Takeoff Weight: 30,200 lb. (13,700 kgs)
Wingspan: 26 feet, 11.5 inches (8.22 meters)
Speed: 1,460 mph (2,350 km/h, Mach 2.2 at 39,375 feet)
Ceiling: 55,775 feet (17,000 meters)
Range: 2,485 miles (4,000 km) with three external tanks.
Armament: Mirage III has two 30 mm DEFA 552A guns, two 1,000 lb. bombs or an AS.30 air-to-surface missile and 1000 lb. bombs. Total external load on five hardpoints, 4,000 kg (8,818 lb.). For interception duties one Matra R.530 air-to-air missile can be carried under fuselage, under fuselage, with optional guns and two Matra Magic missiles. The Mirage 5 has
7 hardpoints for external loads, with multiple launchers permitting a max. load of more than 4 tons. Ground attack weapons are similar to those carried by Mirage III. For interception duties, two Matra Magic missiles can be carried under the wing.
Crew: One/Two
PAF Inventory: Approx. 180 (Total). Breakdown as follows:
Original:
18 Mirage III EPs (multi-role)
13 Mirage III RPs (reconnaissance)
3 Mirage III DPs (trainers)
28 Mirage 5 PAs (ground-attack)
4 Mirage 5 DPAs (trainers)
30 Mirage 5 PA2s (ground-attack)
2 Mirage 5 DPA2s (trainers)
Current:
16 Mirage III EPs (multi-role)
12 Mirage III RPs (recce)
2 Mirage III DPs (trainers)
28 Mirage 5 PAs (ground-attack)
4 Mirage 5 DPAs (trainers)
30 Mirage 5 PA2s (ground-attack)
2 Mirage 5 DPA2s (trainers)
New:
43 Mirage III Os (multi-role) (ex-Australian)
7 Mirage III ODs (trainers) (ex-Australian)
22 Mirage III EEs (multi-role) (ex-Spanish)
2 Mirage III DEs (trainers) (ex-Spanish)
9 Mirage III ELs (multi-role) (ex-Lebanese)
8 Mirage III Es (multi-role) (ex-French)
Note : Additional information available upon request.



COPYRIGHT © 1999-2002 PAKISTAN AIRFORCE ONLINE. ALL RIGHTS RESERVED, WORLDWIDE.
Email: commentsnsuggestions@pakistan.airforce.net