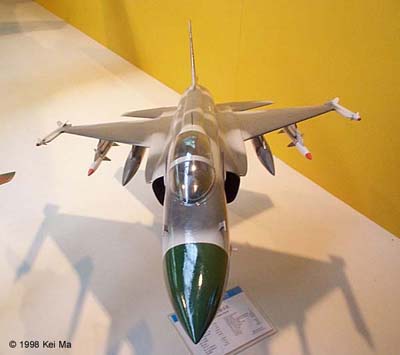 Introduction:
The FC-1 is the successor of the cancelled Pakistani/Chinese Sabre-2 project. The FC-1 (Fighter China-1) is being developed by Chengdu Aircraft Company (CAC) in conjunction with Pakistan, with technical assistance provided by Mikoyan OKB of Russia. The Pakistanidesignation is 'Super-7'. It will be powered by a license-produced RD-93 turbofan. The design
bears resemblance to the F-16 and the defunct F-20, suggesting an emphasis on high manoeuvrability. Its main customer is expected to be Pakistan which also partially funds the project and may have an interest of purchasing at least 150 FC-1s.
The FC-1 has been specifically developed for the Pakistan Air Force and the PLAAF but due to its design success and cost will be available for the export market. It is seen as a potential replacement for the Shenyang J-6, Chengdu J-7, Nanchang Q-5, Northrop F-5 and Dassault Mirage III/5. Air forces around the world operating these aircraft may have a special interest in purchasing the FC-1. Both PAC and CAC claim it to be as good as the Block 15 F-16A/B but cheaper. Air forces operating the F-16A/B but are short of funds may place orders for the FC-1 instead of the more expensive Block 52+ F-16C/D. Herein lies the potential of the FC-1 market.
Background:
The new multi-role fighter FC-1 is based on the Chengdu/Grumman Sabre-2 program that was abandoned some five years ago. Now the development is in collaboration with the Pakistan Aeronautical Complex (PAC), Kamra and Russia's Mikoyan OKB Design Bureau. The aircraft is being jointly developed by Pakistan Aeronautical Complex (PAC) Kamra and
Chengdhu Aircraft Industrial Corporation. Mikoyan OKB is providing the improved version of the 80kN(18,000lb) st Klimov RD-33 turbofan, which is fitted to the MiG-29, designated RD-95. Three flying prototypes and two static test airframes are already under construction and first delivery is expected to take place during 2002. PAC Kamra will undertake manufacturing and assembly of this aircraft.
The FC-1 programme was launched in 1991 following cancellation of Grumman (USA) participation in the development of the Chengdu Super-7, which it replaces. Some design assistance from MiG OKB, possibly based on the (then-designated MiG-33) mid-1980s project for a single-engined variant of the MiG-29 may have been given. Two static test airframes have been built, to begin static testing in 1999. Expectation of eventual production rate of is approximately 50 aircraft per year. Chinese domestic requirement for the FC-1 is said to be for around 100 aircraft, with Pakistan wanting about 150, but a Pakistani order may be tempered by the need to find funds for its planned acquisition of Dassault Mirage 2000-5s
or some other advanced Western multi-role fighter.
The first prototype of FC-1 was set to fly in 1998, but the schedule has been further postponed till 2001 due to the higher standards set by the PAF to counter the threat from India's newly acquired Su-30MKIs as well as development problems. So far PLAAF has not made any commitment to buy FC-1, but a letter of intent (LOI) was reportedly signed by China and Pakistan in February 1998 to inject some new momentum to the much delayed project.
Features:
Powered by a Russian RD-93 turbofan (an upgraded RD-33), it is claimed to be 70-80% as capable as the F-16 (it was rumoured that the Chinese "borrowed" an F-16 from Pakistan for inspection). The LEX-featured wing and lateral air-intakes make it look similar to the Northrop F-20 Tigershark and the Taiwanese IDF. There are a total of 7 hardpoints for armaments
including 4 underwing, 2 wingtips, and 1 centreline weapons station. Its fire control radar may be selected from the GEC-Marconi Blue Hawk, Thomson-CSF RDY, Phanzotron Komar and FIAR Grifo S7. Other avionics including a 25° field of view HUD, two multi-functional displays and INS/GPS. Weapons load capability includes both short-range (AIM-9P/PL-9/Magic 2) and medium-range AAMs (PL-11/Aspide/Sparrow).
It is not yet known whether the aircraft has BVR (Beyond Visual Range) capability. There has been some development problems with the fly-by-wire (FBW) system, although the aircraft is expected to have a backup hydraulic control system. The success of the FC-1 will rest on the factor of BVR and FBW capability without which it will not be able to find customers beyond the PAF and PLAAF.
A number of manufactures are bidding for the avionics system, including GEC-Marconi, Thomson-CSF, and Phanzotron. The FC-1 cockpit will feature a HUD with 25° field of view, 2 multi-function displays, and INS/GPS navigation systems. It is expected to carry medium-range AAMs, as well as air-to-ground munitions. The maiden flight of the prototype was scheduled for early 1998, but technical delays and political foot-dragging have slipped the schedule to well after the year 2000. The PLAAF may be forced to take initial delivery under heavy pressure by Pakistan.
CAIC, the Chinese aerospace industry's export arm, says that the Chengdu/Kamra FC-1 will be in the same performance class as the Lockheed-Martin F-16. The aircraft could be assembled in both China and Pakistan. The unit cost is projected at approximately US $15 million apiece. Aircraft for the Pakistan Air Force would probably incorporate avionics of European origin, linked by a MIL-STD-1553B database. The Italian company FAIR, which is already supplying its Grifo lightweight fire-control radar to upgrade the Pakistan Air Force Mirage IIIEs and to equip its Chinese-designed F-7Ps, is bidding the equipment for the FC-1 and hopes for a decision soon. CATIC says that if the Chinese People's Liberation Army also
orders the FC-1, its variant would have indigenously developed avionics. The single seat FC-1 will be powered by the RD-93, an upgraded and licence built variant of the Russian Klimov RD-33, giving it a maximum speed of Mach 1.8 and an unrefuelled range of some 1300-1400 km. The aircraft will have seven hardpoints and an internal twin-barrelled 23-mm cannon. Western supplied equipment, at least for the Pakistani variant, includes a Martin-Baker MK101 ejection seat.
Design Features: Mid-mounted delta wing with narrow wingroot strakes at leading-edge; single turbofan engine; side-mounted twin intakes, with splitter plates; large intake trunks provide space for considerable internal fuel capacity. Large main fin with dorsal fairing; two smaller, uncanted ventral fins.
Flying Controls: Conventional hydraulic servo-operated control of ailerons, rudder and all-moving tailplane initially, with single analogue fly-by-wire system for back-up; provision for FBW to become primary system later. Trailing-edge flaps; emphasis on high manoeuvrability probably also indicates use of leading-edge flaps, as in F-7MG.
Structure: Primary structure conventional aluminium alloy semi-monocoque. Some components may be manufactured in Pakistan.
Landing Gear: Retractable tricycle type, with single wheel and oleo shock-absorber on each unit. Mainwheels retract upward into engine intake trunks; nosewheel retracts rearward.
Power Plant: One Klimov RD-93 (RD-33 derivative) turbofan (81.4 kN; 18,300 lb st with afterburning), possibly to be licence built by Liyang Machinery Corporation (LMC) for production aircraft. Could have alternative Western engine at customer's option. Substantial internal fuel capacity. Provision for external fuel tanks.
Accomodation: Single seat (Martin-Baker Zero/Zero Mk 10 in any aircraft for Pakistan) under one-piece canopy. Two-seat training versions also planned.
Avionics: Expected to be of domestic and/or Russian origin for Chinese squadrons and Western type if ordered by Pakistan Air Force. Will include pulse Doppler multirole radar. Competing candidates include GEC-Marconi, Thomson-CSF/Sextant, SAGEM, FIAR and Phazotron. Cockpit mockup exhibited at China Air Show `96 featured GMAv HUD and dual
head-down MFDs.
Armament: Underfuselage centreline station for 23 mm GSh-23-2 twin-barrel cannon or other store; two attachments under each wing and one at each wingtip. Weapons expected to include PL-7 and/or PL-10 AAMs, ASMs, bombs, gun and rocket pods, or other stores.
Basic Specifications:
Type: Multi-role fighter
Manufacturer: PAC (Pakistan)/CAIC (China)
Unit Cost: Approximately $15 million (1998 Forecast)
Dimensions (External):
Wingspan over AAMs: 9.50 m (31 ft 2 in)
Wingspan: basic 9.00 m (29 ft 6{1/4} in)
Length overall: 13.95 m (45 ft 9{1/4} in)
Height overall: 5.015 m (16 ft 5{1/2} in)
Wheel track: 2.30 m (7 ft 6{1/2} in)
Wheelbase: 5.14 m (16 ft 10{1/4} in)
Weights and Loadings:
Operating weight empty: 9,300 kg (20,530 lb)
Max external stores load: 3,600 kg (7,937 lb)
Max. take-off weight: 12,500 kg (27,557 lb)
Max. power loading: 154 kg/kN (1.51 lb/lb st)
Performance (estimated):
Max. level speed at altitude, clean: Mach 1.8
Service ceiling: 16,000 m (52,000 ft)
Take-off run: 500 m (1,640 ft)
Landing run: 700 m (2,300 ft)
Combat radius:
- Fighter Role: 648 n miles (1,200 km; 745 miles)
- Ground-Attack Role: 378 n miles (700 km; 435 miles)
Max. range on internal fuel: 864 n miles (1,600 km; 994 miles)
Max. ferry range: 1,200 n miles (2,220 km; 1,380 miles)
Max. G limit: +8 g


COPYRIGHT © 1999-2002 PAKISTAN AIRFORCE ONLINE. ALL RIGHTS RESERVED, WORLDWIDE.
Email: commentsnsuggestions@pakistan.airforce.net