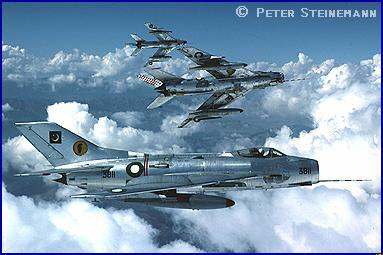 Introduction:
Based on the Russian MiG-19, the Chinese F-6 was inducted into the PAF in 1966 and is now at the end of its operational life. The F-6 will be phased out by the year 2000. It is atwin-engined, supersonic, fighter-interceptor and light ground-attack bomber with good handling and manoeuvring capability. A total of 170 F-6s were inducted into the PAF but now only 49 remain in service. Of the original 170, some had been attritioned, some have been de-commissioned and put up on static displays around the country while one squadron has been sold to the Bangladesh Air Force. Currently, the F-6 forms part of PAF's No. 17 and No. 23 Squadrons.
Background:
The F-6 (the modified export version of Chinese J-6) is based on the Russian MiG-19SF 'Farmer-C' and is the first supersonic fighter which China manufactured. The Chinese version proved to be more popular. Export success for the F-6 was followed by large exports of the A-5 on which it was based. In the early 1950's, China, under help from Russia, set up the first jet fighter production line in Shenyang. In 1955, the first Chinese jet-fighter, the MiG-17 was assembled using Russian parts. On 13 July 1956, the first all-Chinese MiG-17, using Chinese-made parts was rolled out of the Shenyang factory. After, a 15-day inspection period, it was given the go-ahead for a full production run. It was first designated the 'Type 56' and that designation was later changed to 'J-5'. The first J-6 (an advanced version of the J-5 was made using Russian parts. It rolled out of the manufacturing plant in 1958. However, during the initial period, many J-6s were manufactured with poor quality, and the whole project had to be re-started. The first qualified J-6 rolled out of factory in December 1963. The variant of J-6s include the J -6A and the JJ-6, the export version being designated the F-6 and FT-6 respectively.
The F-6A is the Chinese equivalent of the MiG-19PF with a fixed armament of two 30 mm cannon and radar to provide limited all-weather interception capability. The F-6B is the Chinese equivalent of the MiG-19M 'Farmer-D' with the two 30mm cannon supplemented by two semi-active radar-homing AAMs derived from the Soviet AA-1 'Alkali' and used in association with interception radar. The F-6C 'Farmer' is a J-6 development for the day-fighter role with the brake chute relocated to a bullet fairing at the base of the rudder. The J-6Xin is a development of the J-6A with Chinese radar in a sharp-tipped radome on the splitter plane rather than Russian radar in the inlet centrebody. The Tianjin JJ-6 (export FT-6) is a trainer development equivalent to (but not identical with) the MiG-19UTI which was developed in prototype form in the USSR but then not placed in production. The JZ-6 is the Chinese version of the MiG-19R reconnaissance aircraft.
Mission:
The F-6 "Farmer" is a fighter fitted with avionics for both day and night missions. It is highly manoeuvrable and agile and has proven itself in air-to-air combat in the past during the Indo-Pakistan War of 1971 and the Indo-Chinese War of 1965 . It is now being replaced by F-7P 'Skybolt' which has become the mainstay of the PAF in terms of quantity.
Features:
The F-6 was originally designed as a day fighter. However, with time it came to be fitted with better avionics and armaments to transform it into a night-time fighter as well. Though this night-flying capability has not been tested in battle. Its primary duties are attack and reconnaissance. It has two to three powerful 30 mm cannons. These aircraft have attachments under their wings to carry the PAF AIM-9B and AIM-9L Sidewinder missiles for interception missions, with provision of more for external fuel tanks. The F-6 is technologically obsolete, but in a close-range turning engagement is still a formidable air-combat adversary
as a result of its great agility and powerful cannon armament.
Basic Specifications:
Primary Function: Day-time fighter, attack and reconnaissance aircraft.
Manufacturer: Shenyang/Tianjin (China)
Power Plant: Two Shenyang Wopen-6 (WP-6) turbojet engines.
Thrust: 31.87 kN. (7,165 lb. st) - each engine
Length: 48 feet, 10.5 inches (14.9 metres) (excluding probe)
Height: 12 feet, 8.7 inches (3.88 meters)
Wingspan: 30 feet, 2.25 inches (9.2 meters)
Maximum Takeoff Weight: 22,046 lb. (10,000 kg)
Speed: 957 mph (1,540 km/h, Mach 1.45 at 35,000 feet)
Ceiling: 58,725 feet (17,900 meters)
Range: 1,366 miles (2,200 km) with two drop tanks; 685 km (370 miles) without drop tanks.
Armament: Two 30 mm cannons, under wings pylons for AIM-9B Sidewinder air-to-air missile. It can carry four air-to-air guided weapons, two 250 kg bombs, or single rockets of up to 212 mm calibre. 500 kg of disposable stores, including AAMs, free-fall bombs, rocket launchers and drop tanks, carried on four external hardpoints (2 on each wing) and one centreline hardpoint for a drop tank.
Crew: F-6: one; FT-6: two (trainer variant)
PAF Inventory: 49 F-6s; 15 FT-6s (current); 170 (original)
Comments: PAF has recently sold a squadron of PAC Re-conditioned F-6s to the Bangladesh Air Force. The PAF is seeking to sell off or retire the remaining F-6 fleet by 2000.
Note: Additional information available upon request.



COPYRIGHT © 1999-2002 PAKISTAN AIRFORCE ONLINE. ALL RIGHTS RESERVED, WORLDWIDE.
Email: commentsnsuggestions@pakistan.airforce.net