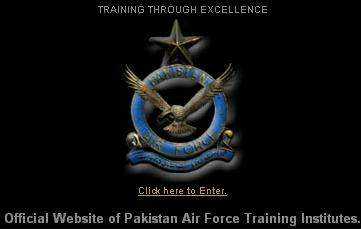 Government of Pakistan Official website of the Islamic Republic of Pakistan.
Government of Sindh Official website of the Sindh province, Pakistan.
Pakistan Aeronautical Complex Official website of Pakistan Aeronautical Complex, Kamra.
Pakistan Airforce.com

An excellent PAF site, under construction.
PIADS.com Official website of Pakistan Institute of Air Defence Studies.
KRL.com.pk Official website of Dr. Abdul Kadeer Khan Research Laboratories.
PakDefence.com Pakistan Defence Library website by Jamie Al-Nasir.
FAS.org Official website of the Federation of American Scientists.
IDEAS2000.com Official website of International Defence Exhibition & Seminar 2000.
DefenceJournal.com Official website of the monthly Pakistani defence magazene.
2Usman.com One of the best personal efforts of promoting the armed forces of Pakistan by Usman.
Pakistan Air Force An exellent website of PAF created by Haroon.
The PAF Page A beautiful website of Pakistan Air Force by Syed Asad Hussain
Shaheen.com A website dedicated to the Pakistan Air Force by Fawad Karim.
Khurram's PAF Site An excelent website of PAF by Khurram Malghani.
Defenders of Pakistan The three forces, plus a reviw of Pakistans Ballistic Missile programme.
The Islamic Bomb page All about Pakistan's Nuclear programme.
Pakistani Armed Forces Factbook
(MORE LINKS COMING SOON)
COPYRIGHT © 1999-2002 PAKISTAN AIRFORCE ONLINE. ALL RIGHTS RESERVERD, WORLDWIDE.
Email: commentsnsuggestions@pakistan.airforce.net